Companion Animal Hospital Surgery Information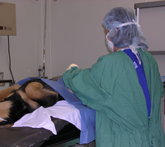 Our philosophy is to treat every patient as if they were our own! If you have questions, please ask us!
Please call us for prices on Surgery.
Spay/Neuter for cats/dogs under 6 months old
This includes: Physical exam prior to surgery, anesthetic monitoring by a Registered Veterinary Technician, state of the art monitors, pre & post surgical care, and the surgical procedures.
The day of surgery additional pre & post-op services such as IV catheter during the procedure, pre-surgical blood work, microchipping, and post-op pain control will be discussed with you.
Core vaccines (Canine Distemper/Parvo, Feline Distemper, and rabies) are required for surgical procedures.
Call for prices on surgical procedures over the age of 6 months.
Orthopedic Surgery
We are equipped with a complete surgical suite and have all of the up to date surgical equipment to care for your pets' orthopedic needs. We routinely perform knee and hip surgeries as well as fracture repairs.